STARTING SCHOOL WITH FOOD ALLERGIES
---
FOOD ALLERGY RESOURCES FOR PARENTS AND TEACHERS
Starting school is a big step for any child. Add food allergies to the mix, and it can make parents feel extremely anxious.
School is a very different environment from kindy with fewer teachers to children ratio, an open playground, and probably all your child's allergens. This may be overwhelming for some children and parents who choose to have an allergen-free home or attend a childcare with a no nut policy or that have removed your child's allergen/s.
However, remember there are hundreds of children who attend school with allergies successfully with no incidents. Managing allergies at school can be done successfully, but it does take planning with your child as well as working alongside your school.
The first thing to remember is that starting school is a massive step for any child, regardless of whether they have allergies or not. You want to celebrate your child starting school. It's an exciting time for everyone. So however anxious you are feeling, try very hard not to show it as it will rub off on your child.
As well as working with your chosen school, you need to work with your child to prepare them for a new environment and new challenges that lie ahead. This means educating them about their allergies which hopefully you've been doing anyway. We have just the book to help with this!
STARTING SCHOOL WITH FOOD ALLERGIES
Our new book 'Thai's Exciting First Week At School' is a wonderful tool to help your child with the next step in becoming more independent. Discuss the story and the different situations your child may face while at school.
The book is also a great resource for schools and kindergartens to help create awareness and understanding among other students and parents.
When you purchase the book you will receive a checklist of things to consider before your child starts schools and things you can implement once your child has started school.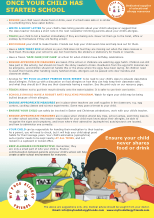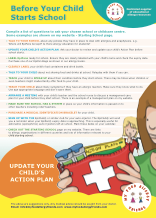 HELP RAISE AWARENESS IN YOUR SCHOOL
---
An inclusive, safe learning environment paves the way for a happy and confident student. It's natural for parents and teachers to feel anxious when a child with allergies starts school. My Food Allergy Friends is Australia's dedicated supplier of allergy-related school resources and educational allergy awareness sessions. We help students understand food allergies and how to support friends and minimise an allergic reaction from even happening. Giving peace of mind to parents, teachers and most importantly, children with food allergies.
Our allergy sessions are specifically designed to raise food allergy awareness in the classroom and encourage students to practice safe prevention strategies. Through our Food Allergy SMART program, you can encourage YOUR school to be a part of our Allergy Sessions, use our Allergy Packs or teachers can use our new Online Program for students. More information on all our allergy resources for schools can be found here. We help students become Food Allergy Smart.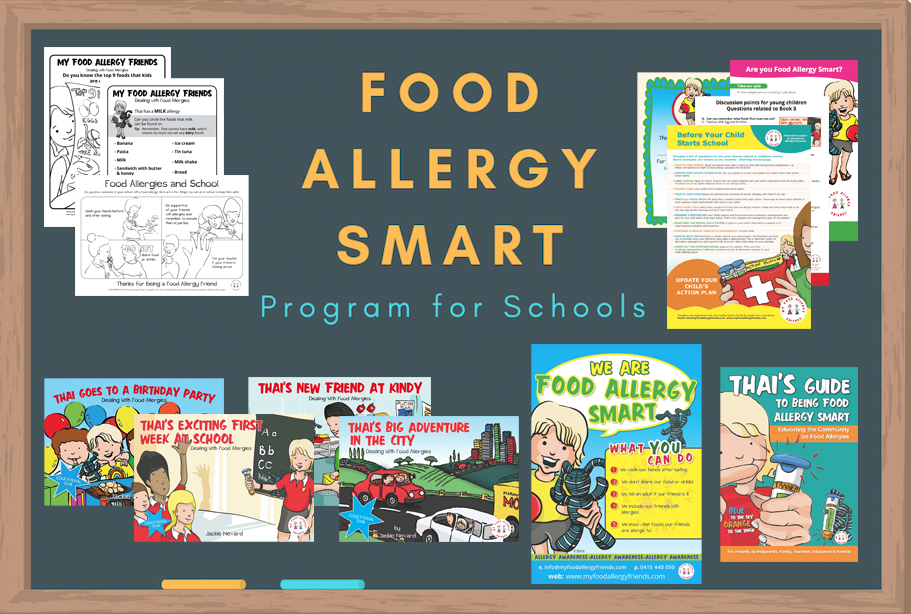 School Allergy Pack
  Four educational

 children's books – with teaching points
  10 allergy awareness posters – visual posters for preps who are not yet reading
  Certificates, activity sheets, and handouts are emailed to your school

 

  Tips for parents – starting school sheet – emailed and hard copy to           share with 

parents

  Parent guide on food allergies

  Allergies & Me Poster
  Craft is emailed to your school for prep students
  You can add our gloss double-sided A5 certificates to your order
  Links to teaching points for each book
Teachers Guide – Australian curriculum aligned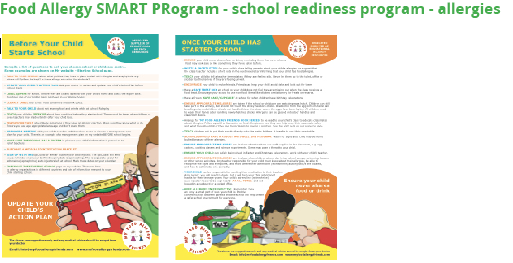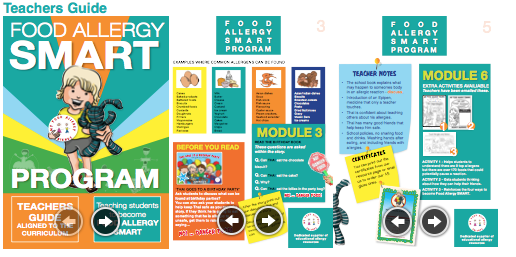 LINKS TO HELP YOU PREPARE FOR SCHOOL
---
The links below will help you prepare for school, obtained from a variety of trusted allergy organisations around the world. Check which guidelines are current for your country or state, and use those resources to form a care plan for your child.
QUESTIONS TO ASK YOUR CHOSEN SCHOOL
---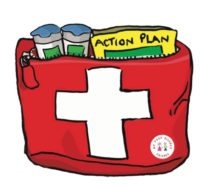 What policies do you have in place for children with food allergies and anaphylaxis?
Where are EpiPens located? In the classroom? In the school office?
Remember EpiPens need to be close by, and never locked in an office.
Where will details of my child's allergies and Action Plan be displayed?
In the classroom? In the staff room? At the tuck-shop?
Are all teaching staff trained to recognise the signs of anaphylaxis and competent in the use of an auto-injector?
Who supervises snack breaks and lunch times? Are those staff aware of which children have allergies?
How is information about my child's allergies passed on to relief staff?
Is there a freezer for storing my child's 'safe cake' so my child can be included in birthday celebrations?
Do you have a 'No food and drink sharing policy' at this school?
Do you have a 'Reminder to wash hands before and after eating' at this school?
Do you have any food requests at this school? How are these monitored?
Are craft supplies, science experiments and cooking lessons monitored for possible allergens?
Is food given out in the classrooms as rewards? Do teachers use non-food items like stickers and stationery?
Are students and parents educated about food allergies in class and through school newsletters?
How can my child be included in Easter and Christmas celebrations?
SAMPLE LETTERS TO EDUCATE PARENTS ABOUT LIFE-THREATENING FOOD ALLERGIES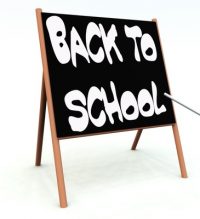 Dear Parents
Welcome to another school year!
Food allergies are becoming increasingly common among children, and this year there is a student in your child's classroom who has a severe allergy to Peanuts. Any exposure to these items, even a tiny amount, could be potentially very serious and life threatening for this child.
We do ask our students and families to help make the school environment safer for all students, by following these simple suggestions:
• Please avoid sending foods such as nuts, peanut butter or nutella sandwiches
to school with your child.
• Please always contact the Classroom Teacher before sending any food for
sharing with the class for special celebrations like birthdays, Easter or Christmas.
• Please remind your child never to share his/her food and drinks with
other students.
• Please wash your child's face and hands thoroughly before they leave home,
especially if your child has eaten Peanuts prior to coming to school.
• Please remind your child often to wash their hands before and after eating
We greatly appreciate your support for children with allergies. Together we can make a difference.
Kind regards
---
Dear Parents
We are committed to providing a safe and welcoming environment for all of the children in our school.
THERE IS A CHILD IN YOUR CHILD'S CLASSROOM 
WHO HAS A SEVERE FOOD ALLERGY
The food(s) that concern us are:
………………………….NUTS………………………………
While some allergic reactions can be mild, many students with severe food allergies experience serious and potentially life-threatening symptoms from eating food to which they are allergic. You can help by not sending foods into the classroom that contain Nuts.
Other things you can do include:
• If your child has eaten nuts prior to coming to school, make sure they wash
their hands before leaving home.
• Please always contact the Classroom Teacher before sending any food for
sharing with the class for special occasions like birthdays, Easter and Christmas.
• Please remind your child never to share his/her food and drinks with other
students.
We greatly appreciate your support for children with allergies. Together we can make a difference.
Regards
The Class Teacher
---
CREATE A MANAGEMENT CARE PLAN FOR YOUR CHILD
Arrange a meeting with your child's teacher and the school nurse to discuss a MANAGEMENT CARE PLAN for your child.
FOR TEACHERS AND EDUCATORS
HOW TO USE EPIPEN
CHANGES TO INSTRUCTIONS ON EPIPEN® ADMINISTRATION 13 JUNE 2017
The devices have not changed, just the instructions on the label, which now include:
Reduced injection time from 10 to 3 seconds – this is based on research confirming delivery of adrenaline through the 3 second delivery time.
Removal of the massage step after the injection – this has been found to reduce the risk of irritation at the injection site.
A new short video featuring Dr Andrew Rochford, explaining the changes
THE WIGGLES – ALLERGY SONG

A fun video to share with the class to get children talking about Food Allergies
A GREAT SCIENCE EXPERIMENT TO TRY OUT AT SCHOOL.
It shows why it is important to wash your hands after eating. It will teach children about allergens and cross contamination.
Cross Contamination Experiment – by Jenny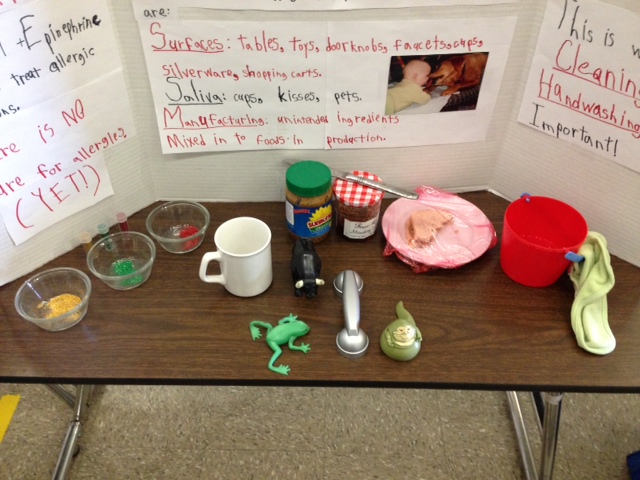 Allergy articles with Kiddipedia
---
STARTING HIGH SCHOOL WITH ALLERGIES
---
Year 7 is a big change, so what do you need to think about as your child becomes more independent? Do they speak up? Are they confident? Are they carrying their own medication at the weekend or when you are out and about during the school holidays? How do they communicate with their friends and teachers? Are they good at reading labels? Have you let them order food at a cafe or restaurant?
You can support your child by letting them be more responsible for their allergy management and this will help their confidence grow.
I have put together an information sheet for starting high school with the help of our older allergy community. If you would like a copy please click below.
Send me a copy 
FOOD ALLERGIES AND SCHOOL POSTER
---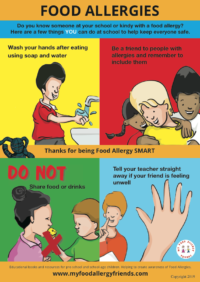 The perfect child-friendly poster for schools. Most little preps can't read! We have designed a poster that students will understand through our images. Our poster will help children become Allergy Aware. Providing colourful reminders about washing your hands after eating, not sharing food at school, including our friends with allergies and informing a teacher if our classmate is having an allergic reaction in the playground.
INSULATED EPIPEN BAG FOR SCHOOL
---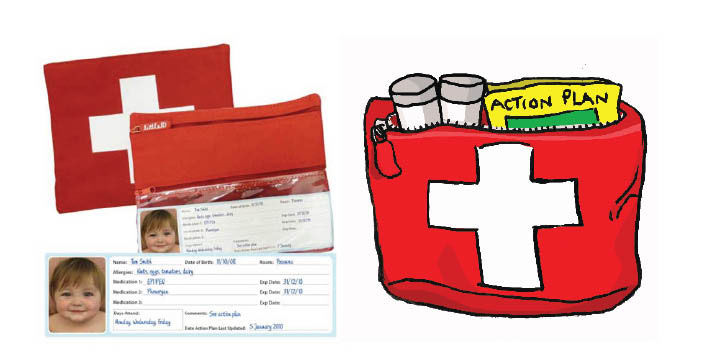 – Ideal for storing EpiPens, antihistamine and asthma medication at school.
– Customised insert allows staff to clearly identify the student, their allergies, medication details including expiry dates.
– Insulated and large enough for two EpiPens!
– As used by the book character Thai in our food allergy book series.
Designed by early childhood professionals to support children at risk  of anaphylaxis, this insulated bag is easily identifiable in an  emergency. The bag is large enough to house an Epipen or Anapen and  antihistamines, yet small enough that it can be safely stored away. The clearly designed label ensures that the correct child's medication is quickly accessed in an emergency.
Dimensions: 21.5 x 5.5 x 18 cm
FOOD ALLERGY EDUCATION FOR SCHOOLS
PREP -GRADE 3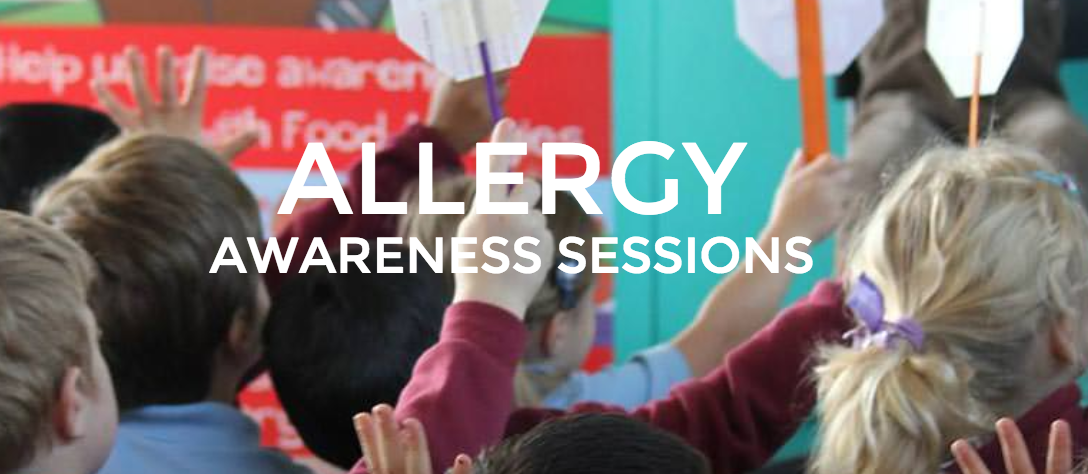 WHAT WE COVER IN OUR SESSIONS:
One in ten babies will develop a food allergy, we discuss what allergies people have heard of
We talk about the most common allergens
We discuss symptoms of an allergic reaction
The importance of having an EpiPen close by
We explain why we wash hands and do not share food at school
We talk about ways we can help our friends with allergies by including them and informing a teacher if they are sick
Every student receives a certificate for attending our food allergy  session
We read two stories and have classroom activities available
The school receives our Allergy Poster Pack to increase awareness at school
WHAT'S HAPPENING IN 2021?
---
Would you like YOUR school to be part of the Food Allergy Smart Program in 2020?
To arrange for My Food Allergy Friends to visit your school or centre please request more information and one of our team
will get in touch with you. Student allergy education is essential and this allergy awareness program is a must for every school.
FEBRUARY 2021
Gold Coast 8
Brisbane 10 – 12
Sunshine Coast 9 – 16
Sydney 22 – 26 – 1 spot left
March 2021
Perth 8 – 12 – 3 spots left
Melbourne 22 – 26  – 1 spot left
May 2021
Allergy Awareness Month
Brisbane 1 – 6 –
Sydney – 17 – 21 – FULL
Sydney – new May dates TBC
July 2021
Melbourne 12 – 16  – 7 spots left
September 2021
Sydney – 6 – 10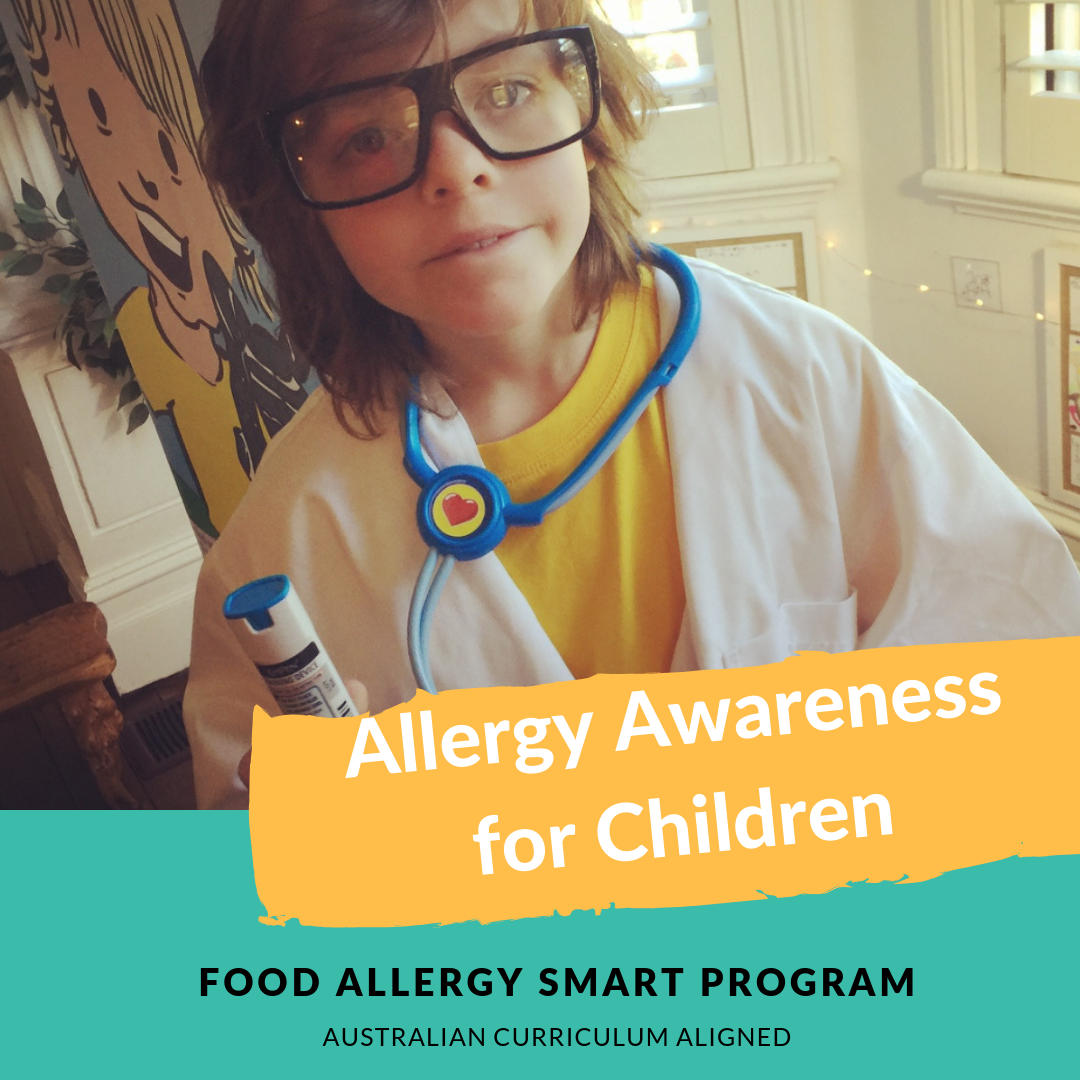 For one week only, Thai will be joining me for part of my allergy tour in Melbourne
Children will be able to meet the real Thai, our inspiration behind our educational allergy series.
Allergy Advocate Thai, has always wanted to help us raise awareness of food allergies. He is very excited about joining me again and helping to raise awareness. Last year in Sydney children responded so well to having a child make allergies easy to understand and he will talk about simple ways we can all support our friends.