In the MEDIA
A big thank you to all the papers and publications featuring
'My Food Allergy Friends'
Every article helps increase awareness of Food Allergies in children.
May 2019 – TV
Thanks to the Today Show for highlighting the need for allergy awareness and education.
March 2018 – Print
As part of our 'Let's Talk Anaphylaxis' campaign, Allergy Today magazine share our story about anaphylaxis. Allergy Today is a comprehensive read that caters for those who are only just grappling with living with allergies to those who have been affected for years.
Australians can order here
Read More – Page 8 of Monday's (March 19) paper. This is the link to the digital edition: http://leader.smedia.com.au/manningham/
February 2018 – TV
Author and founder of My Food Allergy Friends is starting an awareness campaign on Valentine's Day called 'Let's Talk Anaphylaxis'. Jackie Nevard is releasing her 5th children's book, this is the first book to cover a severe allergic reaction, anaphylaxis. The story is part of the Thai & Rabbie educational series and is based on her own son Thai. She is also pushing for her Food Allergy Smart Program to be in every childcare centre and school.
A Sunshine Coast mother has launched a new campaign about educating children and the community, about severe allergic reactions, otherwise known as anaphylaxis.
Based on the Peregian Springs family's challenges, the project has been pitched to the State Government to be rolled out to childcares and schools across Queensland.  Read More
Author and allergy advocate Jackie Nevard was on the Central Coast today raising awareness about anaphylaxis. Students from Our Lady of the Rosary at Wyoming given plenty of tips on how to be food allergy smart.
January 2018
It's time for change! The Food Allergy SMART Program is making a difference by educating children on food allergies and teaching kids ways to support our friends and become Food Allergy SMART. Many childcare centres are leading the way in allergy awareness and implement this program each year, creating a supportive community
 Read More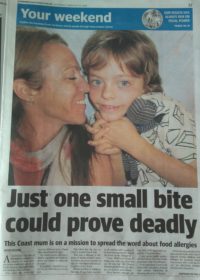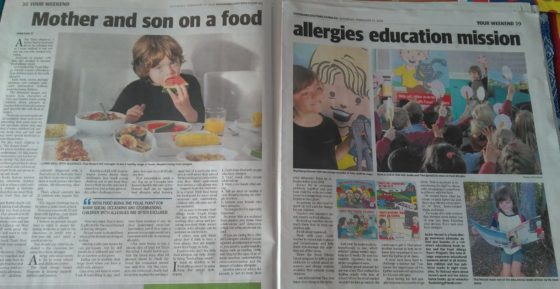 August 2017
Jackie Nevard – Winner of Back Yourself Noosa
This event is about you starting that idea, following that dream, taking that chance. How to do it! Who to talk to and how each of these women have risen up with their own idea and how you can do it too. These women are Game changers and Change makers and maybe you are too.
We will also be holding a mini pitch fest. Pitch your idea to our panel Read More
May 2017
Jackie Nevard – Food Allergy Mum Interview Series
Food Allergy Week May 14-20, 2017
Australian children have the highest recorded rate of food allergies in the world. One in 10 babies born in Australia today will develop a food allergy. As, Food Allergy Week coincides with Mother's Day this year we are highlighting the awesome work of Aussie Food Allergy mums and advocates. Read More
February 2017
Jackie Nevard launches the Food Allergy Smart Program
 Podcast – UK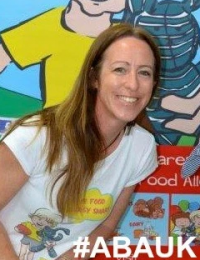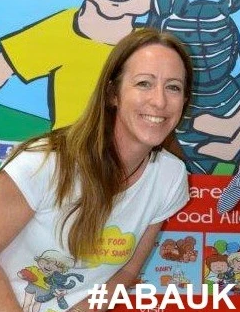 On episode two of #ABAUK podcast I chatted to Jackie Nevard the founder of My Food Allergy Friends, Jackie's son Thai has multiple food allergies and after realising the need for allergy education Jackie launched My Food Allergy Friends, she has produced four books in her educational allergy series with another two books in the pipeline, a string of educational resources and her very popular allergy awareness sessions around Australia and New Zealand. Listen to the Podcast
May 2015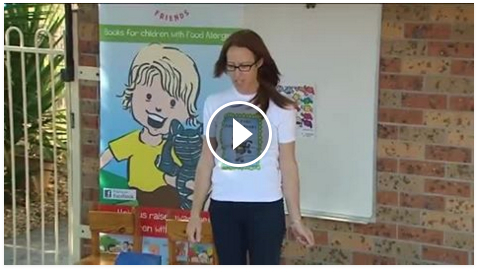 WIN News – Food Allergy Awareness WEEK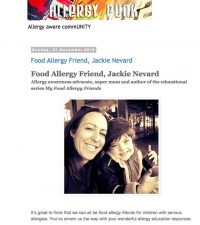 January 2014
Sunday's exclusive story on the allergy epidemic in New Zealand?
Exclusive story – Allergy Epidemic – View program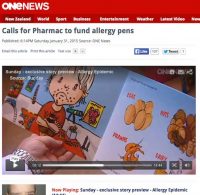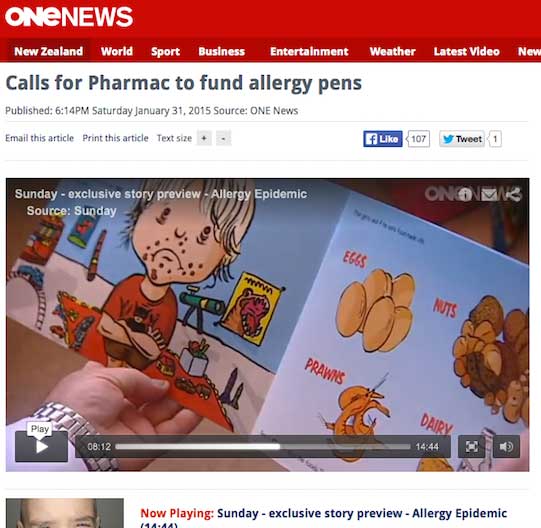 December 2013
New teaching resource for parents and schools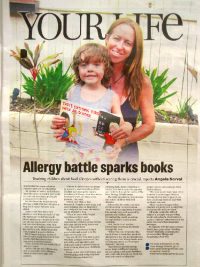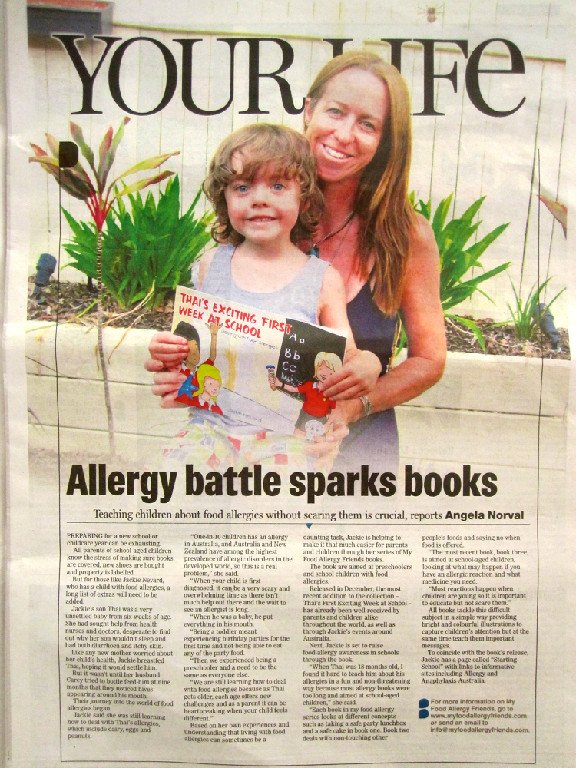 March 2013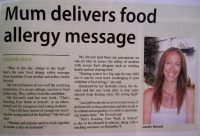 March 2013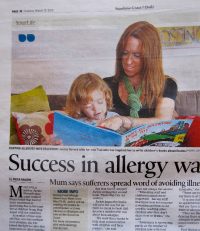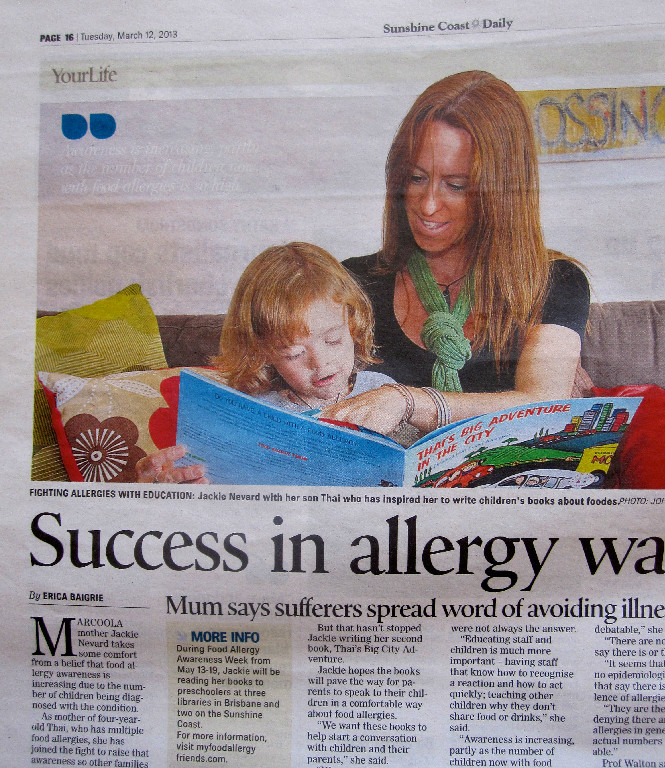 November 2012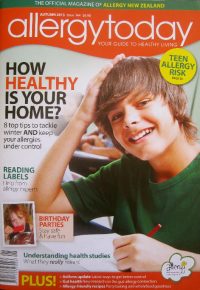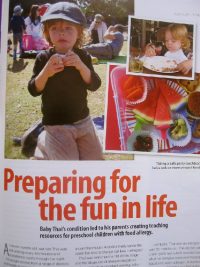 ---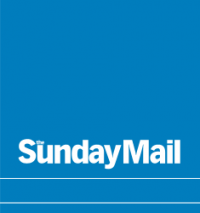 ---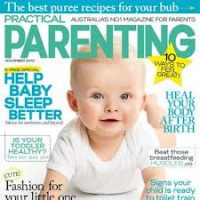 ---
Special thanks to: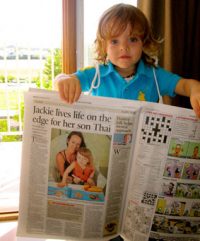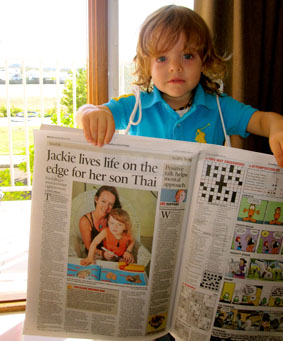 Sunshine Coast Daily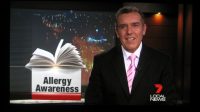 Seven News- Sunshine Coast
Click to read the article for 'Food Allergy' week
Media Enquires
Contact author and founder  – Jackie Nevard
Ph 0415 4400 50   or email –  click here to contact author