Starting Kindy With Food Allergies
---
Resources for Parents and Educators
Starting kindy is a big step for any child, but it can be even more challenging if your child has a food allergy.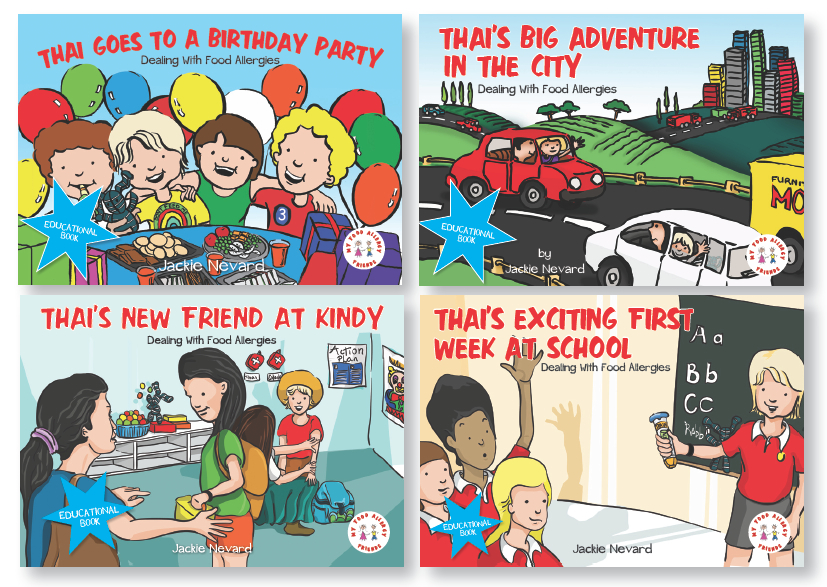 We get it, we've been there and know that entrusting someone else with your child can feel frightening. Will your kindy be able to keep your child safe in an environment where your child's allergens may be present? Will the other families and children attending understand allergies?
The good news is many Early Learning Services are well prepared and provide a nurturing and safe environment for children with allergies, and we work closely with many of them.
The best thing you can do is educate your child. We have several book resources children love, from Thai Goes To A Birthday Party, his City Adventure and Starting Kindy. Each book subtly teaches your child different safety messages.
Our books are visual so even very young children will begin learning through our beautifully illustrated pictures. Key messages such as carrying an EpiPen, knowing what foods you are allergic to, eating only YOUR safe food, saying no if someone offers you food, getting food checked by parents or a trusted adult, asking family and friends to wash their hands after eating, bringing safe food to parties and learning what may happen to their bodies if they were to have an allergic reaction (Thai's First Ambulance Ride) are covered through our stories.
Children learn how the loveable Thai keeps himself safe and how allergies are just a part of his life and don't stop him from having fun. Thai is confident and this encourages your children to become confident and learn about ways to keep themselves safe, just like Thai.
Our new book 'Thai's New Friend at Kindy' is a wonderful tool to help your child with the next step in becoming more independent. Discuss the story and the different situations your child may face while at kindy. This book is a must for any childcare centre as an educational resource to aid allergy education. Educators can check out our Childcare resources
For parents it also comes with our Parent Tips Sheets helping you prepare your child for kindly, know what questions to ask when visiting different places and what you can continue to do once your child starts childcare.
CHILD CARE RESOURCES ON FOOD ALLERGIES
---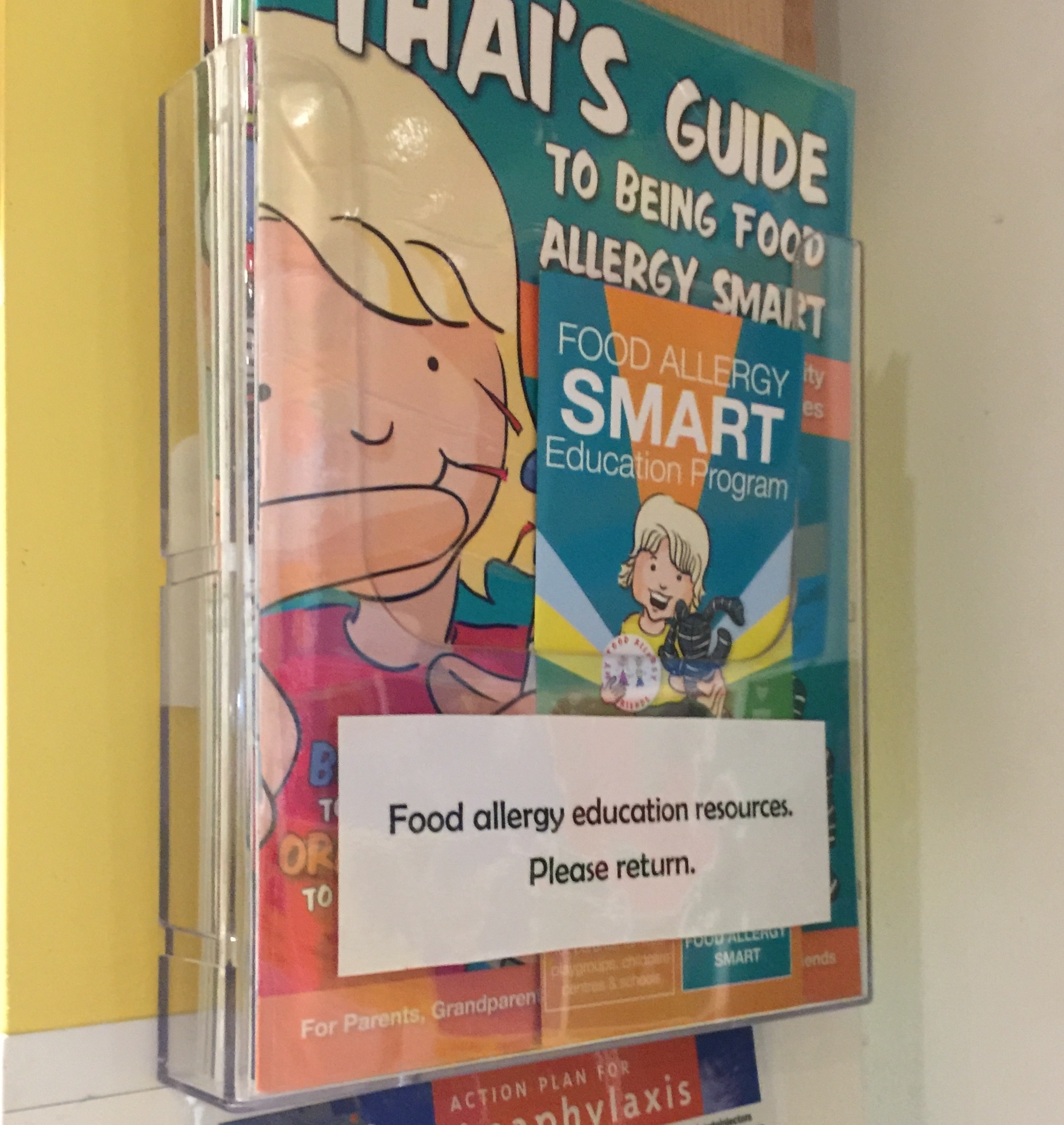 An inclusive, safe learning environment paves the way for a happy and confident adult. It's natural for both parents and teachers to feel anxious when a child with allergies commences kindy or day care. My Food Allergy Friends is Australia's dedicated supplier of allergy-related child care resources and educational sessions. We help your young children understand exactly how to stay safe with food allergies and minimise an allergic reaction. Giving peace of mind to parents, educators and most importantly, children with food allergies.
Our Food Allergy SMART Program is used by many Early Learning Services to create an allergy aware community. Centres use either our resources or book an incursion where we visit the centre and deliver our fun and engaging allergy awareness sessions.
HELP RAISE AWARENESS IN YOUR CHILDCARE CENTRE
---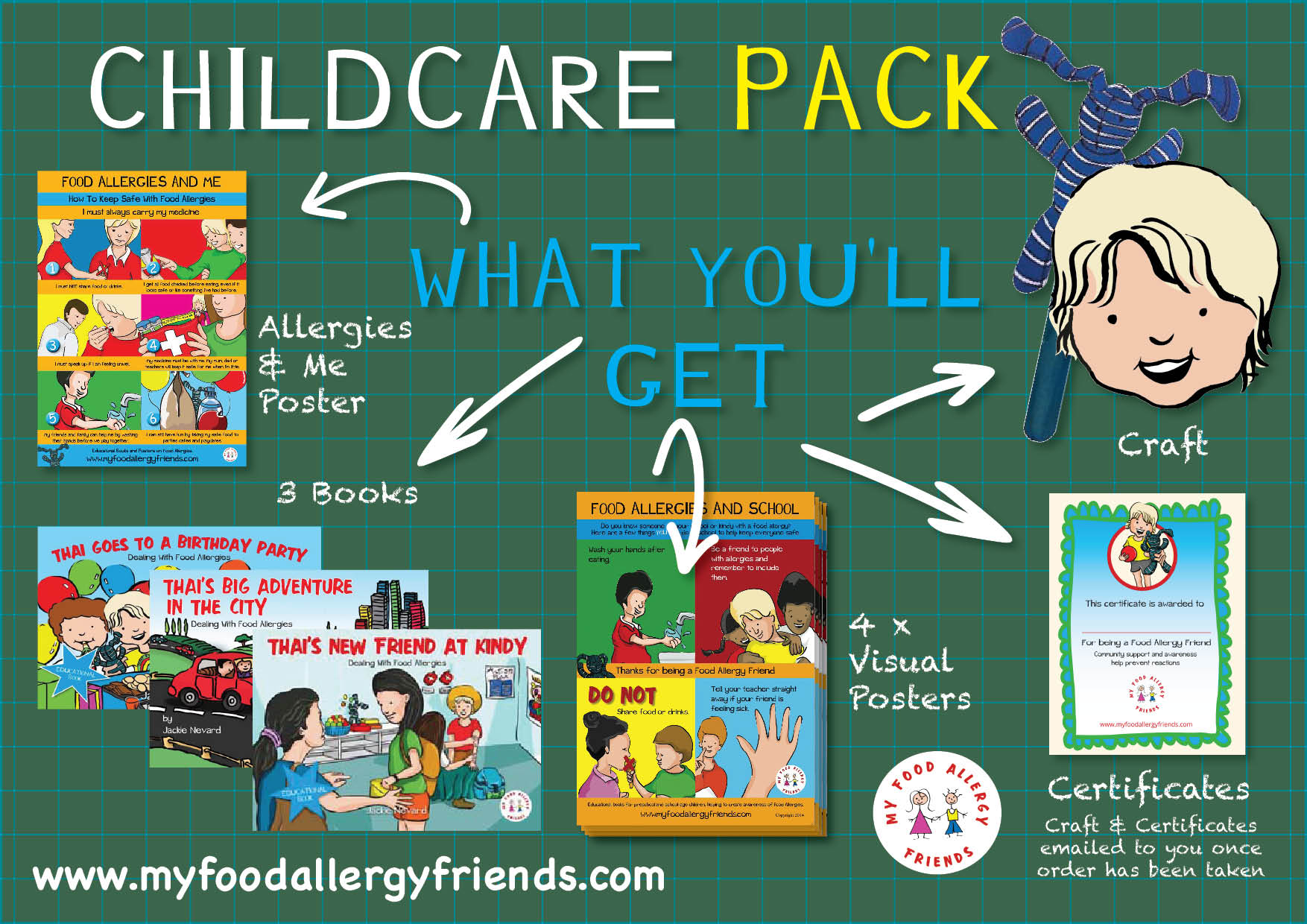 We offer a discount for childcare centres, kindergartens and schools.
Tadpoles Childcare Centres in Queensland are the first to lead the way and have purchased books to educate every one of their QLD centres. We also work with Active Kids, Guardian, Goodstart, Emali Centres, Stepping Stones, Little Learning Schools and C & K to name a few.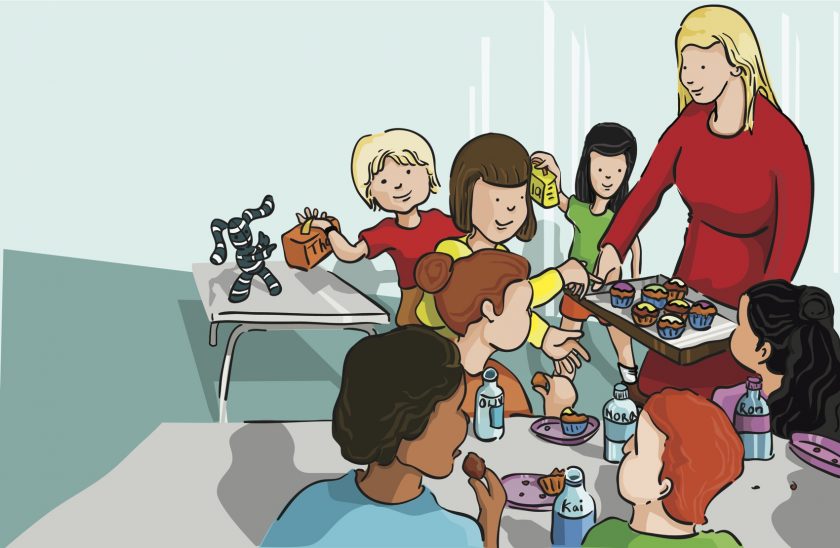 CHILD CARE AND KINDY RESOURCES – FOOD ALLERGY BOOKS, POSTERS AND EPIPEN AND ASTHMA BAGS
My Food Allergy Friends is all about creating a safe, inclusive kindy or child care environment. All materials are developed specifically as practical, fun and engaging food allergy resources. My Food Allergy Friends provides child care centres and kindergartens with the simplest and most affordable way to incorporate food allergy awareness into the kindergarten curriculum.
Browse our selection of child care resources now or give us a call to discuss your requirements.
FOOD ALLERGY STORIES CREATED EXCLUSIVELY FOR EARLY LEARNING EDUCATORS, TEACHERS AND PARENTS
Thai is a kindy kid with food allergies. Thai is allergic to peanuts, tree nuts, eggs, shellfish and milk. Thai's New Friend at Kindy is all about giving children with food allergies the confidence to take the next step towards independence. It focuses on making smart choices in different situations he or his new friend Estella may face at kindy. For his classmates, it's a fun and colourful way to learn practical skills for preventing allergic reactions at kindy.
Thai's story is easily relatable for kids at playgroups, prep classes, extracurricular clubs and classes and any location where little ones start taking steps towards independence.
FUN, ENGAGING EDUCATIONAL SESSIONS FOR YOUNG CHILDREN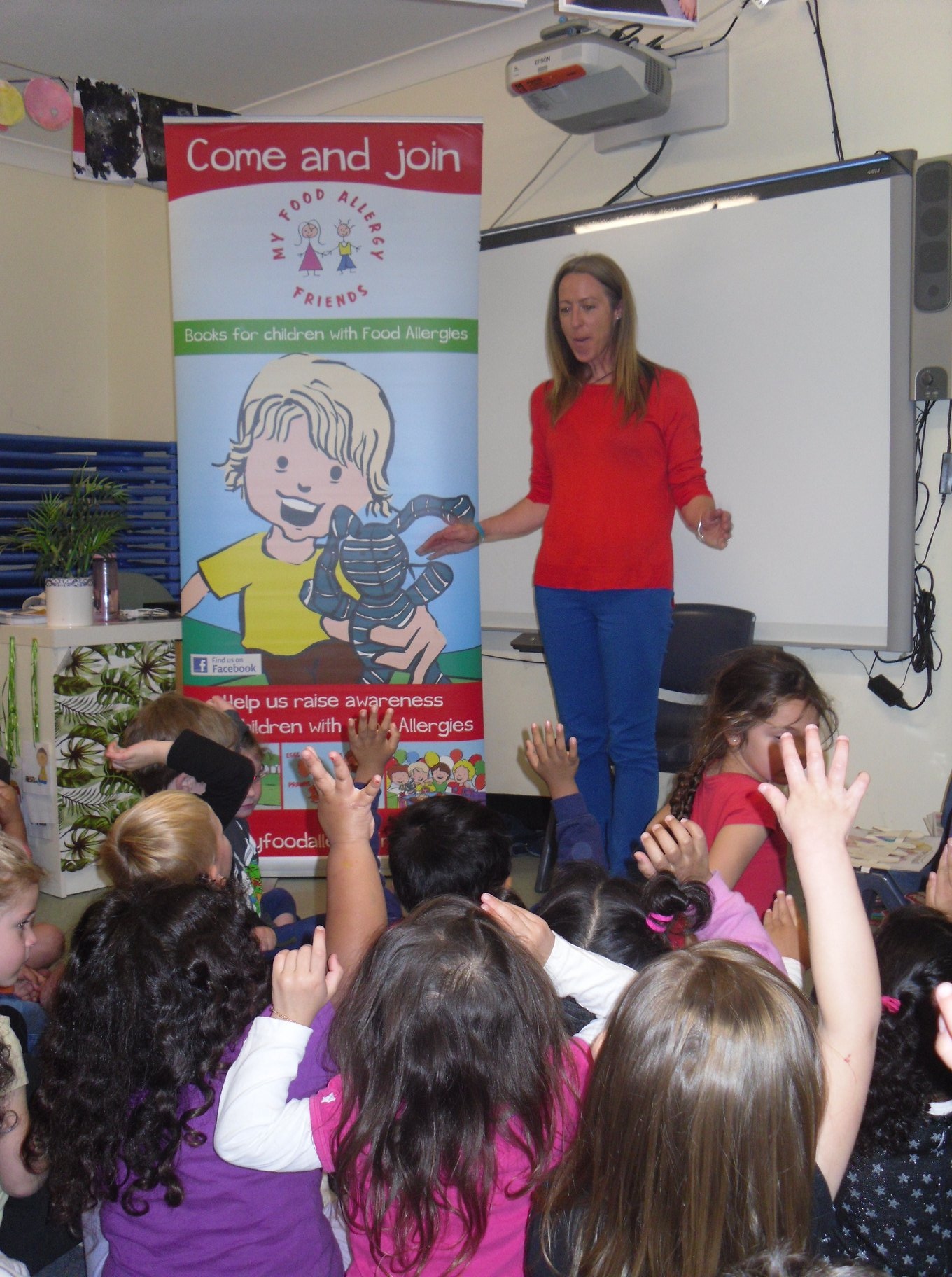 For educators concerned about their duty of care in the classroom and playground, our in-centre allergy education sessions are an excellent way to cover all your bases with your children, teaching them ways to be Food Allergy Smart. Parents of children with food allergies may approach their centres about options for educational sessions.
FOOD ALLERGY RESOURCES AND INFORMATION FOR PARENTS, EDUCATORS AND TEACHERS
These resources are hand-selected from Australia's most trusted allergy organisations for parents and early childhood education professionals. These will help bring food allergies into your kindy curriculum and raise awareness of dangers. You'll also find information and teacher resources on allergy management plans and first aid.
Not in Australia? Find resources in New Zealand, Canada, the US and UK below.
---
The links below are resources obtained from a variety of trusted allergy organisations around the world. Check which guidelines are current for your country or state, and use those resources to form a plan for your child.
CRAFT & ACTIVITIES FOR TEACHERS AND PARENTS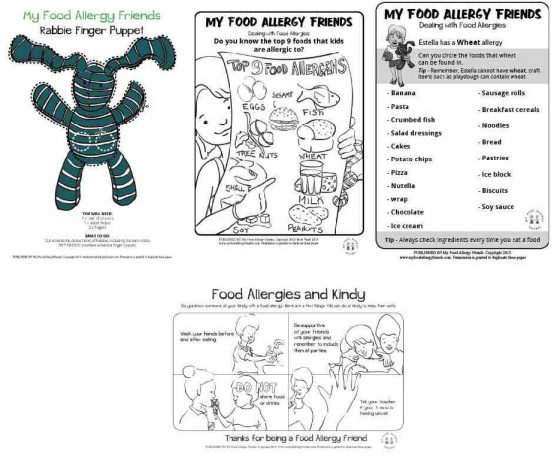 When you order our books we have a selection of free colouring pages and activities teachers and parents can use. Please email us with your invoice number and we will send you the activities. Don't forget to check out the resource page that has discussion points for each book.
INSULATED EPIPEN BAG FOR KINDY
---
The EpiPen bags is ideal for storing EpiPens, antihistamine and asthma medication at kind or school.
– Customised insert allows staff to clearly identify the child, their allergies, days they attend the centre or school, medication details including expiry dates.
– Insulated case and large enough for two EpiPens!
– As used by the book character Thai in our food allergy book series.
Designed by early childhood professionals to support children at risk of anaphylaxis, this insulated EpiPen bag is easily identifiable in an emergency. The bag is large enough to house an Epipen or Anapen and antihistamines, yet small enough that it can be safely stored away. The clearly designed label ensures that the correct child's medication is quickly accessed in an emergency.
Dimensions: 21.5 x 5.5 x 18 cm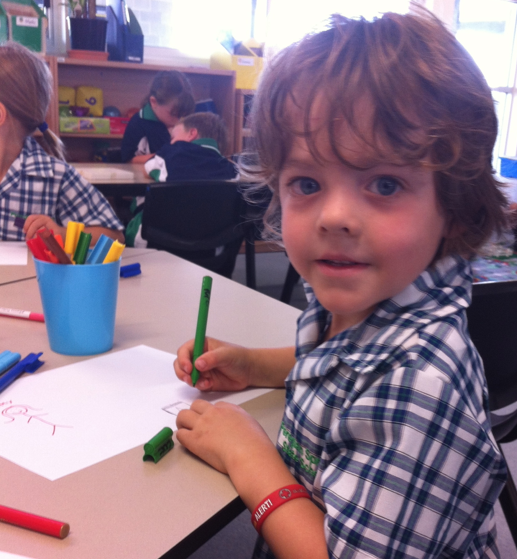 Have your child wear a medical alert bracelet, it's a great way to remind others of your child's medical needs. Medibands® provide peace of mind so that when the unexpected happens, critical medical information can be conveyed to teachers and medical professionals.
Mediband® caters for many medical conditions such as food allergies. Covering foods such as peanuts, dairy and eggs, I carry an EpiPen or anaphylaxis alert. You can also have drug allergies listed to medications such as penicillin, or alerts for other medical conditions like diabetes and epilepsy.
Mediband® offers an extensive and ever-expanding range of medical wristbands which we are proud to partner with.
If Mediband® don't have what you're after, they'll make it for you!
My Childcare Allergy Pack contains 3 preschool books, 5 child-friendly posters, plus access to craft. The posters show colourful reminders about washing hands after eating and not sharing food, perfect for childcare centres and kindergartens.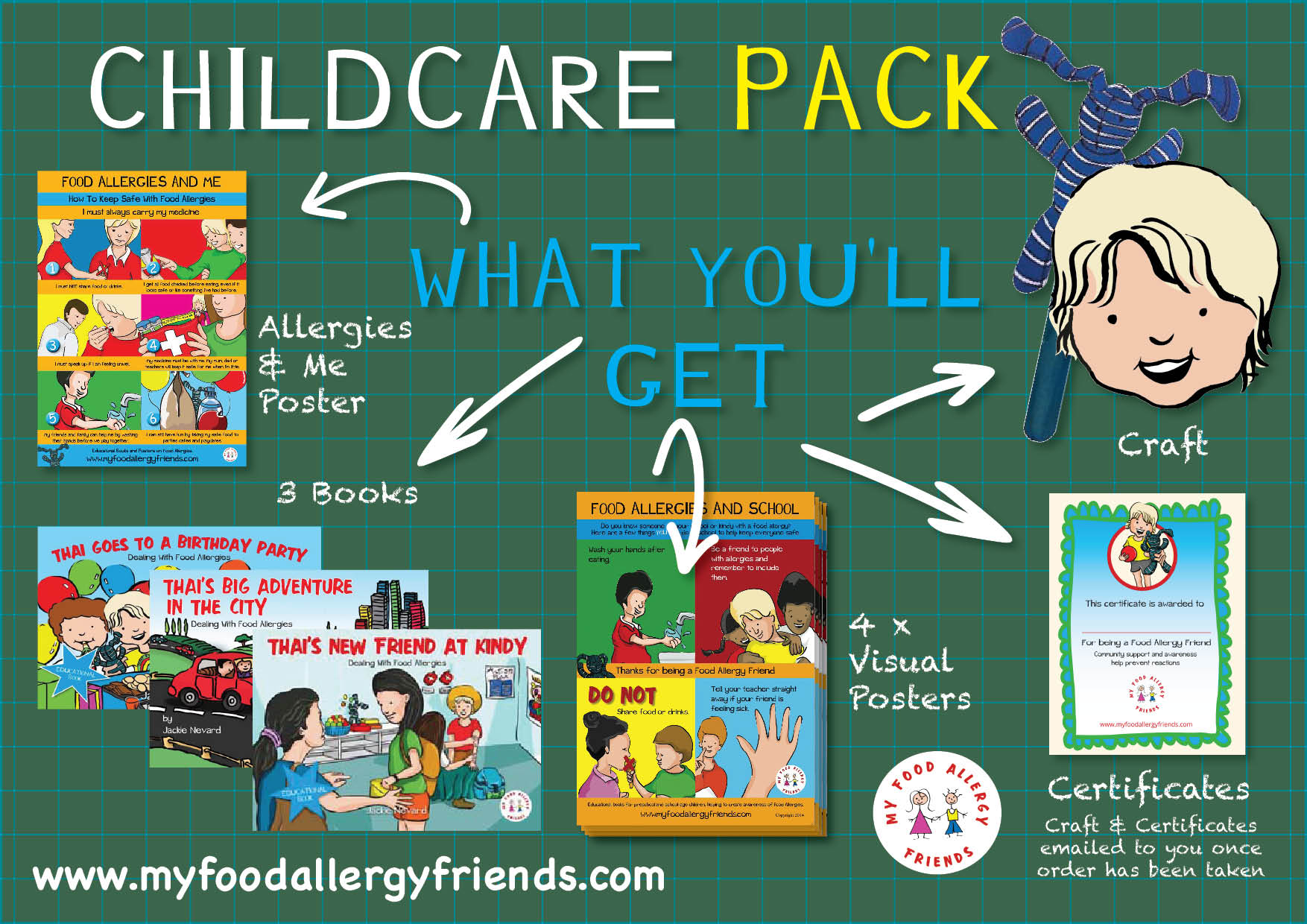 Educational allergy books x 3
4 Child-friendly posters to rise awareness throughout your centre
Allergies & Me Poster
Craft emailed to your centre, great for allergy week
Further activities emailed to your centre
Information sheet for parents who enrol a child with allergies – Tips on starting kindy
Certificates emailed to your centre or you can add our gloss double-sided A5 certificates to your order
Links to teaching points for each book
Childcare Centres can order a childcare pack by contacting My Food Allergy Friends below.
Help us to create a safe, inclusive kindy or child care environment by teaching ALL children about food allergies and helping our community become