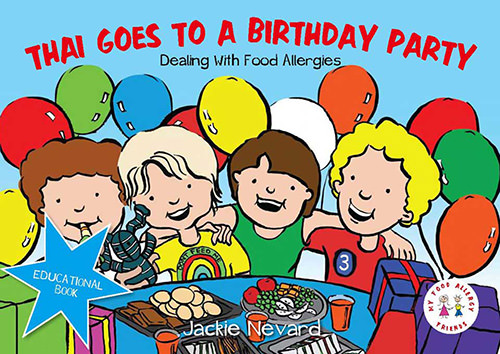 'CHILDREN FEEL DIFFERENT, THIS SERIES HELPS TO 'NORMALISE' FOOD ALLERGIES'
Food Allergies can cause a lot of stress and anxiety for families. Patients and the families are vigilant and often feel the threat of the risk of reaction every time they feed their child or venture beyond their usual environment. Children feel different. Books such as Jackie Nevard's series help to 'normalise' food allergies and create positive messages of sensible caution and happy food experiences that the child and their family can take on board, personalise and build upon in their own life. I wish this series the best of success and hope it provides safety and positive messages for those families with food allergies.
Assoc Professor Pete Smith
Professor Pete Smith is one of Australia's most accomplished and respected allergists and immunologists.
'WE'VE PROBABLY READ EACH BOOK  4-5 TIMES SINCE WE OPENED THE PARCEL '
The books arrived last night and our 2 year old is already obsessed with the 2 you recommended we start with. And seems to love saying "No! Danger food!" to the food we have. We've probably read each book 4-5 times since we opened the parcel last night – think they're going to be really good, thank you!
By Anna – NZ Parent 2023
'THE KIDS LOVE TO SHOUT OUT "NO! DANGER FOOD!'
The kids love to shout out "NO! DANGER FOOD" when you ask the question can Thai eat this food. Thai goes to a birthday party is definitely one of Mason's favourites, that we read night after night!!!
By Joanne Ashby
KIDS ON THE COAST MAGAZINE
'They have asked me to read them over and over again'
My children's interest in these books surprised me as neither of my kids have food allergies. Regardless, they have asked me to read them over and over again. The illustrations are sweet and the story is simple, positive and refreshing. Read more…
MUMBUZZ BLOG
After reading the book for about the 25th time, I asked her why she liked it. She explained to me that she loves how Thai (the boy in the book) doesn't have to miss out on anything at the party (his mum has pre-prepared everything that is needed) and that because everyone looks out for him he can be normal too. My daughter is only 3 years old.
Sometimes your kids are so much smarter than you give them credit for. Read more…
SETH'S ALLERGY STORE
Hi MFAF! We have loved reading your book (over and over again) with our son, Seth and are now excitedly awaiting our first delivery of your wonderful book and rabbits for other children to enjoy them too!
By Vicki
'THEY ARE EDUCATIONAL, BUT YOUR KIDS WON'T REALIZE'
These books are wonderful! Not only do they have fantastic, colourful illustrations, but the stories are simple and fun. They are educational, but your kids won't realize they're actually a learning tool and will just think they're cool, as my son did. All the books in the series follow a little boy, named Thai, through different life experiences all while managing his food allergies like a champ. The books portray food allergies in a non-threatening way, in simple language so very young children can understand, yet older kids will enjoy as well. At the end of each book there is a guide for parents on how to best use the books to help your children embrace their allergies. Read more…
By Jennifer
'THEY ARE BRILLIANT! I AM IN LOVE WITH THEM!'
Thank you, thank you, thank you, THANK YOU!!!!!!!!!!!!!!! I received your books today (I purchased all 4) and they are brilliant! I am in LOVE with them! Everything about them is brilliant. The stories are written so well and completely relevant to my son, pictures are colourful, recipes were a sneaky little extra at the end that completely excited me (we're already planning on cooking some tomorrow) and websites and information on allergies and how to be safe is easy to understand and the message is clear! I can not wait to take them to my son's class this week and get her reading to my son's class on how to keep him safe. Job well done! Thanks again
By Emma
'FANTASTIC EDUCATIONAL BOOK THAT IS EASY TO READ'
I absolutely loved the book "Thai goes to a birthday party". I found that the information in the book was very well written and was easy to read to my two year old daughter. The author, Jackie Nevard, has made the issue of life threatening food allergies relevant in an everyday scenario of going to a birthday party. The bright and appealing illustrations really engage my daughters attention too.I really hope that more people become aware of just how serious food allergies are in children today and grab a copy of this book. I also loved the recipes she provided too! Looking forward to reading the other books in the series.
By Anna Mendes
'IT'S A GREAT BOOK AND I WOULD RECOMMEND TO ALL'
I just wanted to say that your book 'Thai Goes to a Birthday Party' is an absolutely fantastic idea! This book has helped my kids understand that not all children can eat whatever they like and aware of the situation.
As a parent I believe that even if your children don't have allergies it is worthwhile to purchase the book and help them and others understand how serious allergies are. My children didn't have allergies but have friends who do so I took it upon myself to teach my kids about this growing trend.
My daughter recently developed mild case of allergies to egg white, milk and sesame. With the knowledge (from reading your book) my son told me to read the story to my daughter to help her so she knows she can't have eggs etc or she'll get sick. He is very cautious now and always ask me if she can have something before he offers her anything.
By Natasha Cricri
'THIS BOOK IS A MUST FOR OUR YOUNG CHILDREN'
My son feels very lucky and is so excited about his new book. This book is a must for our young children. He was able to understand the story not only by reading but also by looking at the pictures. You are going to loveeeeee this book !! As soon as we opened the second page Arda's exact words without reading it " aaaaaaaaaa he's got allergies too"
My beautiful Arda reads his book over and over again every night:-) but in Turkish 
 and Jackie Nevard this is his favorite book..its like an epipen for us:) you know what i mean:-) it travels with us everywhere:-)
By Sibel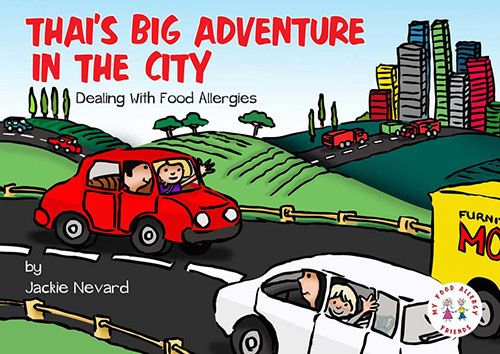 'MY GIRLS HAVE REQUESTED THEM ALMOST EVERY NIGHT'
My girls have requested them almost every night, talk about them during their play and sit and pretend to read them! Even miss 2 who is egg allergic has really understood and enjoyed them saying in a big voice NO! Danger Food!
Thank you so much for writing these books! Xx
By Rebecca
We loved them! The girls had a great time listening and talking through the story. You've done well! They are very well written. Thank you for providing such a great allergy book, Miss 4 is taking them to preschool tomorrow so her teacher can read them to the class.
'AS A CHILD CARE EDUCATOR I WOULD LIKE TO SAY THANK YOU'
As a child care educator I would like to thank you for these books, they provide us with a fantastic resource to explain to children the seriousness of these allergies.
By Sian
'THE CHILDREN FROM MY CENTRE RESPONDED FANTASTICALLY TO THE BOOKS'
Jackie I received my books yesterday, they're fantastic, you should be extremely proud. I also love the pictures. The children from my centre responded fantastically, identifying what were danger foods for Thai. I love how you have made it a learning tool for children and families.
By Julie Davis
'A MUST-HAVE FOR PARENTS AND CARERS OF KIDS WITH FOOD ALLERGIES'
These books are a must-have for parents and carers of kids with food allergies. And us! We have copies of both books in the clinic.
By Allergy Medical
'THE BOOKS ARE BRIGHT AND COLORFUL AND OFFER A LOT OF WAYS TO INTERACT WITH YOUR CHILD'
My Food Allergy Friends is a series of books geared towards educating young children about food allergies. There are currently two books available to purchase online and a third coming soon.
By Lisa Rutter (No Nuts Mum Group)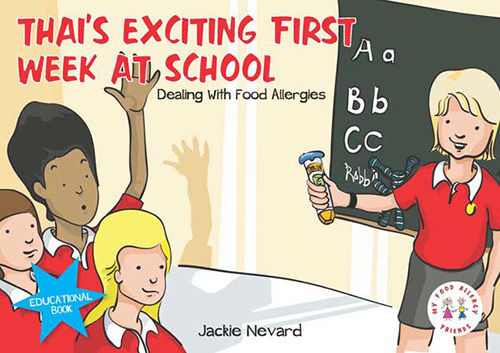 'A GREAT TEACHING TOOL FOR CLASSROOM TEACHERS'
I love it. Very informative and a great teaching tool for classroom teachers. There are many opportunities for discussions to be had.
By Anna (primary school teacher)
'THE SCHOOL PACK'
The books are wonderful and we are pleased to have such a relevant resource in our Library. I am confident they will be well used. The on-line resources are also extremely helpful.
Thank you Jackie.
By Maree – First Aid Officer
'HE HAS BEEN KEEN TO SHOW HIS FRIENDS THE BOOKS'
Your books really hit the mark and he really gained an understanding of how things are now and what it means for him. He especially seemed to understand the signs and symptoms. He has been keen to show his friends the books also.
Again, thank you so much for all your hard work.
By Tania & Noah
'THERE ARE ALSO TEACHING RESOURCES AND POSTERS AVAILABLE'
The going to school one is great at explaining allergies in simple terms. I have left it with my child's teacher to share with the Year 1 class. There are also teaching resources and posters available.
By Helen from New Zealand
'IT COVERS HEAPS OF IMPORTANT INFORMATION ABOUT KIDS WITH ALLERGIES GOING TO SCHOOL'
Thai's Exciting First Week at School is a lovely story that covers heaps of important information about kids with allergies going to school. It is not only great for kids who have allergies for education, it is also excellent because it's nice for them to know that they are not the only kids like this. Other children without allergies will also benefit from this book because they learn about allergies and how they can look after their friends. My 7 year old with allergies and 5 year old without thoroughly enjoyed me reading the story to them and I know we will many times over.
By Lisa (Happy Tummies)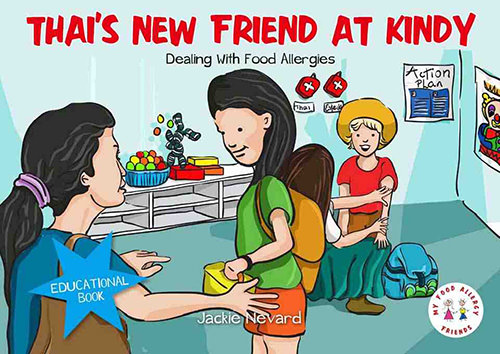 'I THINK THIS IS A GOOD STORY, I LIKE THIS BOOK MUM'
"Is she putting her finger in the custard? She shouldn't do that, it might make her sick. Is that the boy who spilt it? Is Thai saying no?
"This is a sad book " I asked why "because Estella gets sick." We talked about how she was OK and how she has epipens to make her better if she got really sick. And about washing hands and not touching other people's food.
"I want to see Estella giving her mum a cuddle. (We went back to that page.)Why does she have red marks?" I asked him why he thought and he talks about how she got sick from allergens.
We talked about the rules, He pointed to Thai coughing and explained what was happening. We talked about what might happen when he has an allergic reaction.
"I think this is a good story, I like this book mum"
By Zavier age 3
'I LOVE HOW THIS BOOK GOES THROUGH THE USUAL STEPS OF WHAT HAPPENS AT A KINDY/NURSERY SCHOOL INCLUDING WHEN IT'S SOMEONE'S BIRTHDAY AND A CAKE IS BROUGHT IN TO SHARE'
In this book Thai's friend touches a food that she is allergic too and it explains the process of what happens including giving antihistamine and following her action plan. I love how interactive and engaging this book is. After the story, at the end of the book there's great tips for dealing with food allergies, a quiz asking if Thai can eat the following foods (with pictures of the foods), it asks if we know the signs of an allergic reaction and in this book we get to learn a little about Thai and see some super cute pics! Read more…
By Lyndsay Edwards
'WHAT I LOVE SO MUCH ABOUT THESE BOOKS IS THAT THEY ARE ABOUT A REAL LITTLE BOY AND THAT HELPS MY KIDS RELATE TO THE STORIES'
What I love so much about these books is that they are about a real little boy and that helps my kids relate to the stories. I think that this book would be fantastic for all kids aged about 4 to 7, or even a bit older. It's got bright colourful illustrations to make it fun while talking about a very serious matter. I also like the section where kids can add their own photos of them and what they are allergic to. It would make a wonderful gift for a child with allergies!
By Lisa Munro – Happy Tummies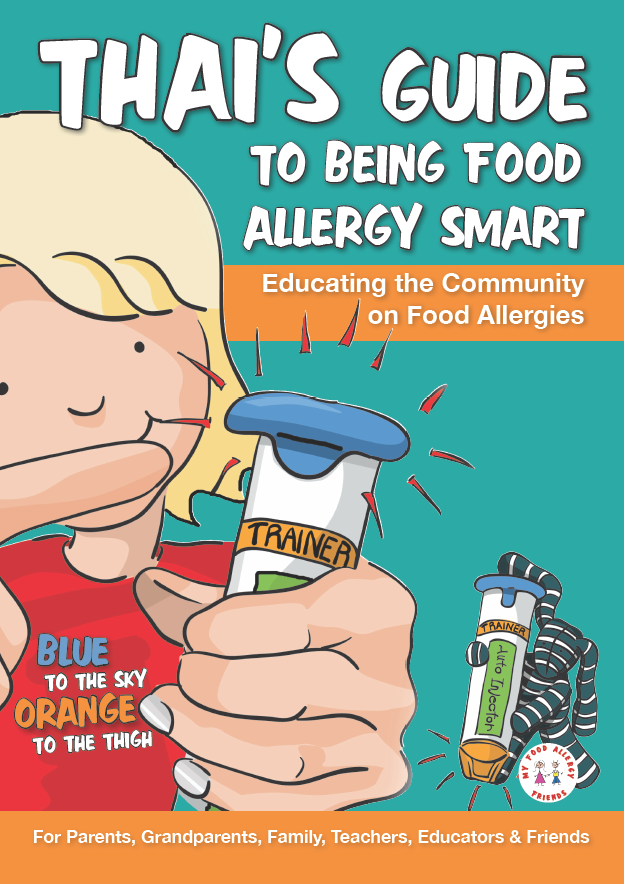 'IT COVERS ALL OF THE IMPORTANT THINGS THAT YOU OFTEN HAVE TO WORK OUT THE HARD WAY'
I'd highly recommend getting a copy of this book for your family if you don't have one! It has lots of practical information about things like eating out, cross contamination and birthday parties… plus heaps more.
I think it would really helpful for families new to allergies because it covers all of the important things that you often have to work out the hard way…the stuff allergists don't have the time to go through at an appointment.
It's also great to have to give to people that look after your child to read. Thanks My Food Allergy Friends

By Lisa – Happy Tummies
'IT IS A COMPLETE 'SURVIVAL GUIDE'
This is the book every parent should have when their child is diagnosed with allergies and then more copies for friends and families. It is a complete 'survival guide' and would have made a huge positive difference to our lives if we could have read it 5 years ago!! So much valuable information that applies to our daily lives. A great educational tool for anyone that spends time with our kids.
By Markeeta
'THIS BOOK WOULD BE A REALLY SENSITIVE WAY OF DISCUSSING, AND DEALING WITH ALLERGIES IN THE EXTENDED FAMILY WITHOUT STEPPING ON TOES OR FEELING INSENSITIVE'
This new book 'Thai's guide to being food allergy smart', by Jackie Nevard has been written with the wider community in mind: grandparents, parents, teachers, and wider support networks and is designed to help educate both the child and the people they are in constant contact with in order to keep them safe.  There is a lot of information contained in the book but is packaged in a very user-friendly way with lots of gorgeous illustrations, infographics and photographs. Read More
By Malena from – Fun with allergy kids blog
'WE'VE BEEN ON THIS ALLERGY JOURNEY FOR 13 YEARS NOW, I WISH I'D HAD THIS GUIDE BOOK BACK THEN!'
We've been on this allergy journey for 13 years now, I wish I'd had this guide book back then! This a valuable resource for anyone starting their allergy journey, but even those already well and truly on it are likely to pick up some new tips! I will be also getting my 13 year old with allergies to read it. For those with younger kids, it's a book to keep easily on hand to share important points to caregivers, relatives and friends. When my child was younger her friend's parents would comment they were too scared to have her over for a play date but perhaps this book would have given us both some reassurance. Thank you Jackie, I'm sure this book will be helpful to many families.
By Sarah – ausEE inc
'THIS PARENT GUIDE ON FOOD ALLERGIES, IS SO USER FRIENDLY AND EXPLAINS THE BASICS IN A FUN, AND HELPFUL WAY.'
A fabulous easy to read and accessible guide book for families who are new to serious food allergies! Living with food allergies can be complicated, and can seem overwhelming at times. You may not know where to start, or all that's involved in caring for a child with food allergies. Thai's Guide To being Food Allergy Smart – Parent Guide on Food Allergies, is so user friendly and explains the basics in a fun, and helpful way.
Fantastic for carers and parents of newly diagnosed food allergic children alike! Perfect book to gift to a caring family member, grandparent, aunt/uncle or close friends who may help care for your food allergic child!
It takes "a village to raise a child", and we can all help children with food allergies (and adults) to be included and stay safe! Get this book for your family today!
Thanks My Food Allergy Friends!! Great to have an easy to read allergy guide book for everyone!
By Kylie – Allergy Punk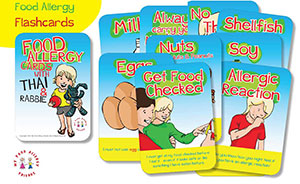 'A WONDERFUL TOOL AND A FUN WAY TO REINFORCE IMPORTANT MESSAGES TO CHILDREN WITH ALLERGIES'
The Food Allergy Cards are fabulous. They are bold, bright and the perfect size. We love the little bag they come in and the fact that they contain all of the key messages children with allergies must learn to keep themselves safe and help keep others with allergies safe. We like the fact that the key term is highlighted in red, this makes it easier to learn these words and recognise them in a list of ingredients. We love the fact that they apply to many food allergies and that we can add in our own allergens too. A wonderful tool and a fun way to reinforce important messages to children with allergies. Thank you My Food Allergy Friends!
By Sarah & Archie – age 4
ALLERGY AWARENESS SESSIONS FOR KIDS
---


This is great, thank you! This really helps children get a greater understanding and is very beneficial for our service.
 Davina – Brisbane 2022

Thank you for coming into our center. The kids and Educators loved the information. Hope to see you again next year.

Thank you for such a wonderfully informative presentation, the children and teachers enjoyed the morning
Director – Nicola 2021

Hi Jackie,
Thank you for sending through this email and being part of our service this year.
It was so great to hear how involved the children were in the session.
I will share this with the kindergarten teacher for future planning.
Centre Director – Ashlee

Thanks for today's visit. The children enjoyed the interactive session. After you left they spent time doing the activity sheets.
– Patricia 2021

I just wanted to say thank you for coming in last Monday and visiting us here at My Stepping Stones Haberfield. The Preschoolers LOVED having you (and Rabbie!) talk to us about the importance of not sharing food with their friends, washing hands before AND after mealtimes, and how important it is to tell a teacher or adult when a friend is having an allergic reaction and being aware of the signs and symptoms of an allergic reaction. During dramatic play in the kitchen, we can hear the Preschoolers use "NO! DANGER FOOD!" when cooking or serving food to their peers. Thank you again for coming in and we will see you again soon!
– Preschool Room  2021

The children loved the show! That would be great if you could email the templates for Thai & Rabbie. Thank you for coming to our service, we look forward to seeing you next year!

We would like to thank you for your visit on Friday, the children enjoyed it and speaking for my children you built on the allergy education and awareness that we have been working on here.

We are so excited to have you back at Pooh Bear's this year. Your session last year was so informative!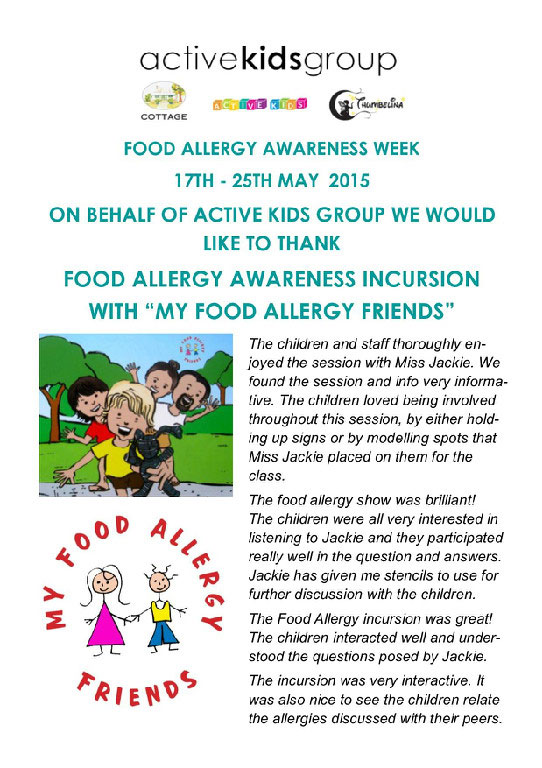 Thanks Jackie. We loved having you visit our services again this year
– Jodie 2016

Thanks again as well for your sessions last week… they were great!
– Leanne 2016

Joel enjoyed the session. He told me it was the best part of his day! He liked the danger food signs and also told me about your t-shirt
– Tanya 2016

We love yesterday afternoon, thank you so much!  
– Raj 2016

Thanks so much Jackie, The educators were very impressed with your session and the children loved it! I have been letting all councils other services know how good you were
– Franca 2016

They loved it. Thanks so much for your time
– Karla 2016

Thank you for yesterday the children enjoyed it very much and I was told that information during the talk was very informative.
– Michaela 2016

Thank you for taking the time to visit us at Hornsby Central Preschool Kindergarten, I think it was extremely beneficial for the children.
– Amy 2017

Thanks for coming, the children enjoyed it and are still talking about foods their friend cannot have.
– Clare – Director 2017

Thank you Jackie
It's always so lovely to see you in our centre.
– Nicola – Director  2017

Thanks Jackie
It was a great session.
So nice to be doing it through the children's eyes.
– Sharon 2017

Thanks Jackie.
I was at your talk a couple of weeks ago and I thought it was great.
My daughter starts school next year and I'm starting to get nervous about her allergies so it was great getting some practical information.
Thanks
– Helen – Parent 2017

Thank you so much Jackie, the educators and children really enjoyed it and the educators wanted to let you know as soon as the children opened their lunchboxes today they all discussed their own food and was it safe for allergies such as "yeah mines dairy-free" or mines "egg free". We will continue to discuss it all week and throughout the year. Hope to see you next year
– Kristy – Sydney 2019

Just wanted to say thanks for the workshop last night, I have a list of things to check, and of things to do.
– Christine – Director    2017

Thank you so much Jackie,
All of these resources are such a wonderful tool to use for our service.
We appreciate your assistance with Allergy awareness week especially as we have lots of children in our centre with specific food allergies.
– Director – 2017

Thanks so much again for the incursion you and Thai did at MSS Rose Bay. The children, parents, and educators have thoroughly enjoyed this!
We've been repeating the 5 ways of helping and we will continue to do so
– Amy  – Sydney 2019

Thanks so much Jackie. The children had a wonderful time and absolutely loved it, as they always do!
– Shelley  – Sydney 2019

Thank you Jackie, we really enjoyed the session. The children certainly learned a lot.
– Colleen  – Sydney 2019

HI Jackie
Thank you so much for coming through and sharing this great awareness program that captured our children's interest. It was also a great talking point for the families to remember the different types of allergies especially with winter, food etc.
This is one of the programs that we look forward to each year, and we appreciate your time, thoughts behind the materials and being able to be approachable to the children and staff.
Keep up the great work and see you next year YAY
– Freda  – Sydney 2023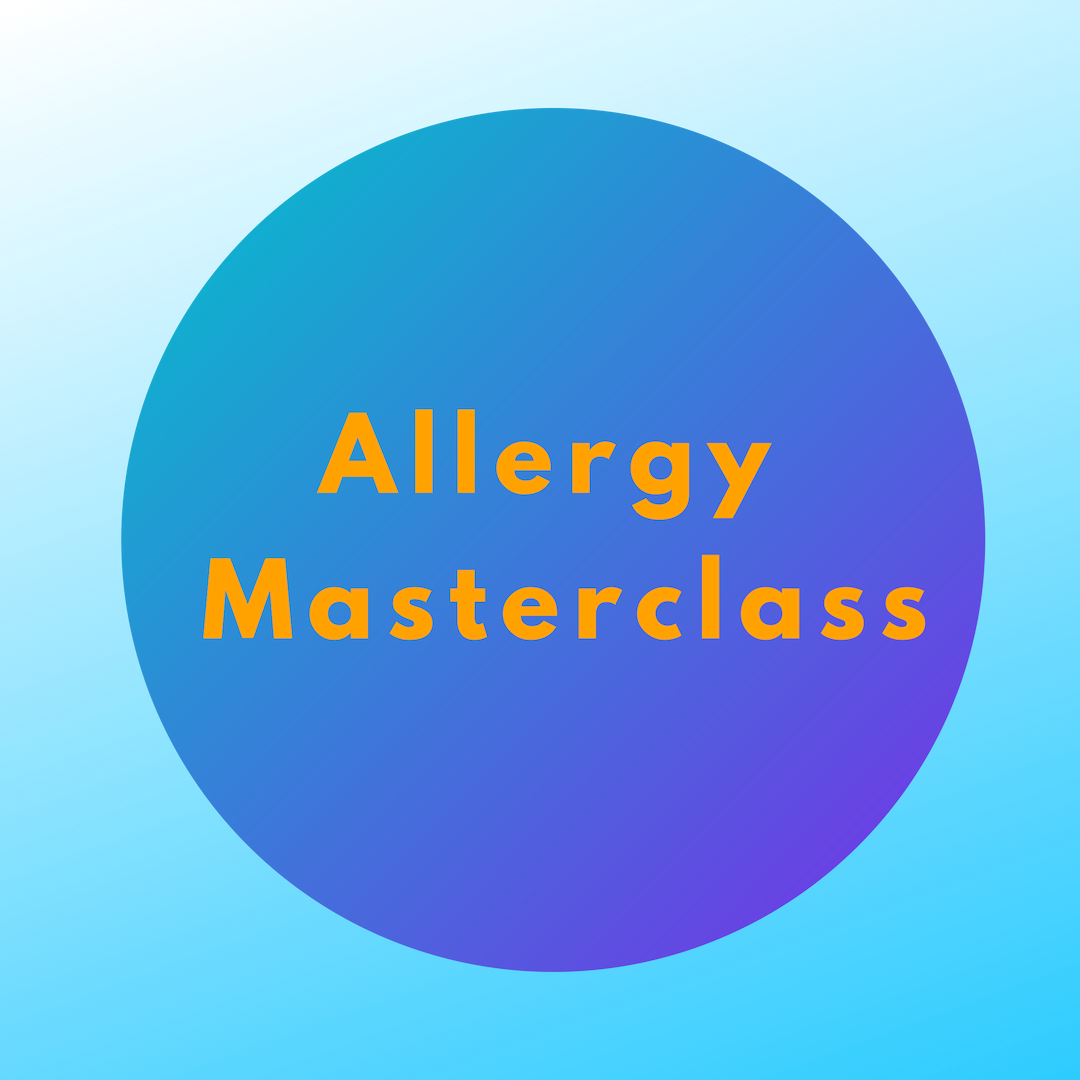 'Thanks for a great masterclass! It was really informative. Caleb loved meeting Rabbie too'
'Thank you (and Simone) for a wonderful Masterclass! I'm so glad we made the trip, we found it really helpful.On behalf of all the allergy kids (and their anxious parents) thank you so much for all the wonderful work you do to help educate people about allergies.'
'Thanks for having us. Loved the masterclass, both you and Simone are brilliant, very valuable information for kids and families. I've taken some great pointers from the class!'
'Thank you so much. It was a great day. We learnt a lot.'
'Thank you very much to you and Simone for the allergy masterclass on Sunday. It was really good for Oliver to see so many other children with allergies, including several with the same allergies he has (nuts, dairy and eggs)! And also I found it very useful to hear Thai's anaphylaxis story and to be able to reassure Oli about the epipens not being a big worry in the end for Thai.'