Food allergy resources for teachers, childcare educators and parents
FREE Food Allergy RESOURCES for childcare educators, teachers and caregivers. After reading the books, childcare educators, teachers and parents can discuss the stories with children. This will help reinforce the teaching points within the stories and open further discussion on food allergies and how it may relate to your child, childcare centre or school.
Below are some printable teaching resources.
Download your FREE certificate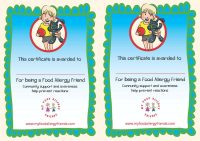 Present your child or the classroom with our Allergy Aware Certificate.
Thank you for raising awareness in your childcare centre or school
Our double-sided gloss certificates can also be ordered for allergy week.
Teachers can contact us for FREE craft and colouring pages.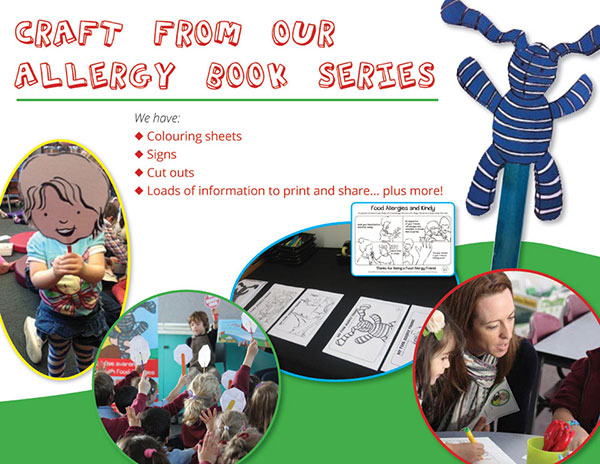 Please send my school craft templates from the Allergy Books
Book Week Activities for teachers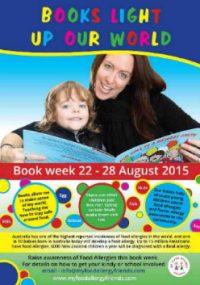 Book Week Activities for teachers – Allergy Books Light Up Our World
Email us for a Book Week poster to display at your local library or school.
Book Week 2019
Theme: Reading is My Secret Power
Dates: 17 – 23 August 2019
Each year across Australia, the CBCA brings children and books together celebrating CBCA Book Week. During this time schools, libraries, booksellers, authors, illustrators, and children celebrate Australian children's literature and you will often see children's book character parades and talented librarians creating amazing displays.
Contact Us if you would like to raise awareness of allergies over BOOK WEEK.
You can dress up as Thai, Rabbie or Finn. We have FREE craft, masks of the book characters Thai and Finn for school parades, special book week colouring pages and activities all related to our books helping to educate others about ALLERGIES.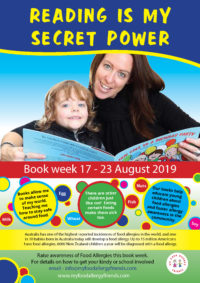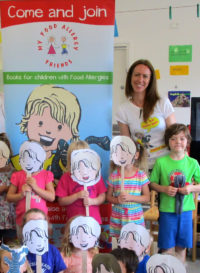 How to use an auto-injector
If you have a child with a food allergy, share this video with family and friends. How to use an auto-injector.
Instructional video on how to use an EpiPen®
Changes to instructions on EpiPen® administration 13 June 2017
The devices have not changed, just the instructions on the label, which now include:
Reduced injection time from 10 to 3 seconds – this is based on research confirming delivery of adrenaline through the 3 second delivery time.
Removal of the massage step after the injection – this has been found to reduce the risk of irritation at the injection site.
A new short video featuring Dr Andrew Rochford, explaining the changes

My Food Allergy Friends
Australia's dedicated provider of educational allergy resources
My Food Allergy Friends is Australia's dedicated provider of educational allergy resources. The aim of our Food Allergy SMART Program is to help parents and teachers educate kids about allergies using our books and resources, children can have fun while learning about allergies.
Childcare centres and schools can put the Food Allergy Smart program in place by using our ALLERGY PACKS or booking a SESSION to teach kids about food allergies and ways to be Food Allergy SMART.
Helping you with allergy education in childcare and schools.
---
ASCIA have developed information in response to the COVID-19 respiratory disease pandemic. As the situation is rapidly changing the information is updated regularly.
What does Coronavirus (COVID-19) mean for people with asthma?
Click here Asthma Australia
---
Including ASCIA Action Plans, FAQs about adrenaline auto-injectors and guidelines.
---


Allergy & Anaphylaxis Australia Inc (A&AA) strives to raise awareness of life-threatening allergy in the community and provides science-based information, resources and services to support children and adults living with severe allergy and the risk of anaphylaxis.
Anaphylaxis Australia link
---
For schools and childcare services
---
A charity dedicated to improving lives affected by eosinophilic disorders.
---
Allergy Medical
Developed and supervised by allergist, Prof Pete Smith, Allergy Medical is a doctor-operated clinic dedicated to the diagnosis, treatment and management of allergies. Bridging the gap between your GP and specialist care, Allergy Medical provides more people with a more timely solution to their allergy problems. You don't need a referral, and there's no long waiting list. So you can fast-track your treatment, and get well sooner rather than later.
Allergy Medical Link
---
At Queensland Allergy Service we have two very experienced allergy clinicians who will provide a tailored consultation aimed at educating about allergies for better quality of life.
---
If you register your adrenaline auto-injector with the Program, we will send you a reminder to renew your prescription before you pass the Expiry Date. You can choose SMS, Email or standard mail options for the reminder.
---


One in ten people in Australia has asthma. It affects people of ages. Allergies and asthma often occur together.
---
Need Emotional Support?
Allergy Support Hub
The Allergy Support Hub provides frontline support for Allergic individuals and their families. ASH was started out of an identified need for support services that provide direct social and emotional help to individuals with a diagnosed Allergy and their families. International research indicates that people living with an Allergic condition may experience stress and anxiety associated with the daily management of one – or often multiple Allergies, including Anaphylaxis – which then impacts that individual and their families quality of life. Read More
Simone Albert – Food Allergy Counselling
Why Counselling?
Counselling supports and helps individuals and families navigate through fear, anxiety, or ongoing high levels of stress as a result of managing a life with food allergies. Simone is a registered counsellor that educates, advocates, increases awareness and supports allergy families and the wider community as she understands first hand how living with allergies affects the entire family.  Read More
---
International Organisations
---


Allergy New Zealand is a national charity that provides you with reliable information, education and support so you can manage your or your child's allergy and live an active and healthy lifestyle. For links and resources Click Here
---
Works on behalf of the 15 million Americans with food allergies, including all those at risk for life-threatening anaphylaxis.
---
Your home for education, advocacy, & connection with others affected by life-threatening food allergies & anaphylaxis.
---

The Elijah-Alavi Foundation, a not-for-profit organization, which aims to encourage nation-wide diverse, social and equitable resources to make sure that all children in every school and beyond in every neighborhood regardless of socioeconomic conditions, culture, or class, are safe when their parents drop them off.
---
Red Sneakers for Oakley was established by Robert and Merrill Debbs after the death of their 11-year-old son Oakley due to a fatal allergic reaction to nuts. Oakley loved his red sneakers and the family decided to use them as a powerful symbol for increased education and awareness among communities of people with food allergies, but also people who don't have them.
---
Food Allergy Week
Food Allergy Week is an initiative of Allergy & Anaphylaxis Australia. The week helps to promote and develop through education, research and ongoing support, the awareness of food allergy amongst Australians. See how you can help.
"Check out our Event Page to see what we are up to for Food Allergy Week. Hope to see you there!"
---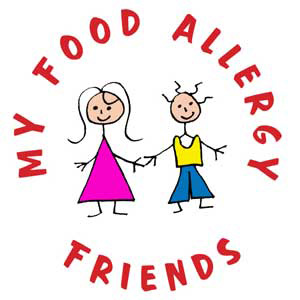 Helping To Raise Awareness