Resources for teachers, childcare educators and parents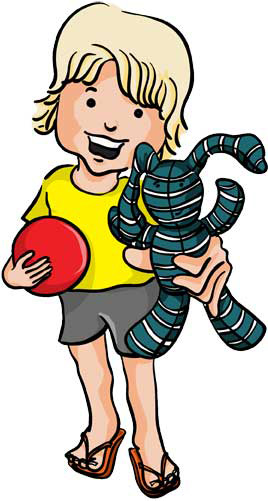 FREE RESOURCES for childcare educators, teachers and caregivers. After reading the books, childcare educators, teachers and parents can discuss the stories with children. This will help reinforce the teaching points within the stories and open further discussion on food allergies and how it may relate to your child, childcare centre or school.
Below are some printable teaching resources.
Teachers can contact us for FREE craft and colouring pages.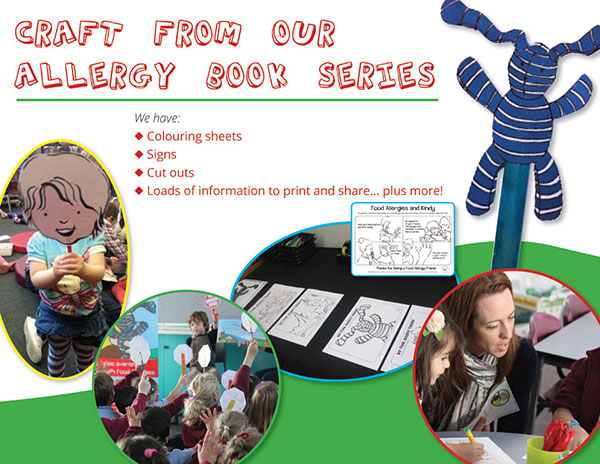 Please send my school craft templates from the Allergy Books
Book Week Activities for teachers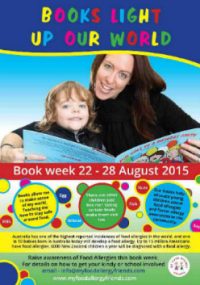 Book Week Activities for teachers – Allergy Books Light Up Our World
Email us for a Book Week poster to display at your local library or school.
How to use an auto-injector
If you have a child with a food allergy, share this video with family and friends. How to use an auto-injector.
Instructional video on how to use an EpiPen®

Great awareness jingle on how to use an EpiPen®
Please watch and share

Instructional video on how to use and hold an EpiPen®


Allergy & Anaphylaxis Australia Inc (A&AA) strives to raise awareness of life threatening allergy in the community and provides science-based information, resources and services to support children and adults living with severe allergy and the risk of anaphylaxis.
Anaphylaxis Australia link
---
Free downloadable resources by Allergy & Anaphylaxis Australia. Helping you with the management of Anaphylaxis in childcare and schools.
---
Allergy Medical
Developed and supervised by allergist, Prof Pete Smith, Allergy Medical is a doctor-operated clinic dedicated to the diagnosis, treatment and management of allergies. Bridging the gap between your GP and specialist care, Allergy Medical provides more people with a more timely solution to their allergy problems. You don't need a referral, and there's no long waiting list. So you can fast-track your treatment, and get well sooner rather than later.
Allergy Medical Link
---
At Queensland Allergy Service we have two very experienced allergy clinicians who will provide a tailored consultation aimed at educating about allergies for better quality of life.
---
Including ASCIA Action Plans, FAQs about adrenaline auto-injectors and guidelines.
---
For schools and childcare services
---
A charity dedicated to improving lives affected by eosinophilic disorders.
---
If you register your adrenaline auto-injector with the Program, we will send you a reminder to renew your prescription before you pass the Expiry Date. You can choose SMS, Email or standard mail options for the reminder.
---


Allergy New Zealand is a national charity that provides you with reliable information, education and support so you can manage your or your child's allergy and live an active and healthy lifestyle. For links and resources Click Here
---
Works on behalf of the 15 million Americans with food allergies, including all those at risk for life-threatening anaphylaxis.
---
Your home for education, advocacy, & connection with others affected by life-threatening food allergies & anaphylaxis.
---


One in ten people in Australia has asthma. It affects people of ages. Allergies and asthma often occur together.
---
Food Allergy Week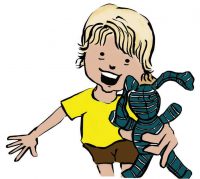 Food Allergy Week is an initiative of Allergy & Anaphylaxis Australia. The week helps to promote and develop through education, research and ongoing support, the awareness of food allergy amongst Australians. See how you can help.
"Check out our Event page to see what we are up to for Food Allergy Week. Hope to see you there!"
---
Food Allergy Week 2016

Australia has one of the highest reported incidences of food allergies in the world, and the numbers are growing at an alarming rate. In fact, one in 10 babies born in Australia today will develop a food allergy.
There are several ways that you can Show You Care during Food Allergy Week 2016.
Food Allergy Week 15-21 May 2016
My Food Allergy Friends will be in Sydney & NSW this year. Bookings are essential. For school bookings and availability email – info@myfoodallergyfriends.com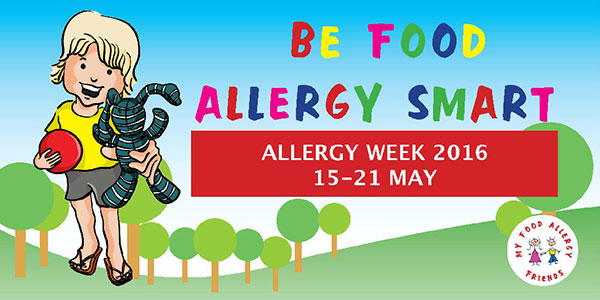 Over the next few weeks I'm working with Jade from Jamberry to raise funds for Allergy & Anaphylaxis Australia.
The lovely Jade from Jamberry is donating ALL her commission to Allergy & Anaphylaxis Australia. Invite your friends to the fundraiser and help raise awareness and funds to help those that suffer from food allergies. Get ready to Jamberry a nail to show your support for those with allergies.
Join the fundraiser here – share with your friends
https://www.facebook.com/groups/1654263104840755/
Helping To Raise Awareness